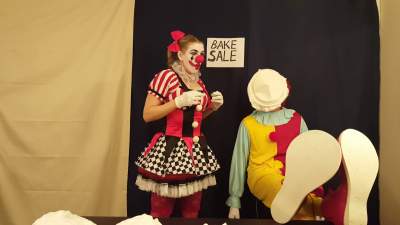 Starring these models:
"Two clowns have a classic pie fight!"
| | |
| --- | --- |
| File count: | 1 |
| Total size: | 812.82 MB |
| Runtime: | 6 mins, 17 secs |
| Released: | 9/13/18 |
| Produced: | 2016 |
| Views: | 801 |
| Scene ID: | 30417 |

$4.99



This scene has something for everyone!

-Slapstick fans will appreciate the old-school pie gags throughout!

-Shaving-cream fans will love seeing Genevieve get buried under tons of foam!

-Clowning fans will enjoy the professional makeup, noses, and costumes used!

-Clown shoe fans will enjoy watching Gracie's shoes flop around when she gets pied- and hearing them slap the floor as she stomps around in the middle of the sketch!

-And many will just love seeing a beautiful and busty yet care-free woman dressed from head to toe as a circus clown!

Summary: Gracie Magna Pedibus, the world's greatest slapstick circus clown- clad in her favorite red, black, and white circus-clowning outfit, complete with her oversized shoes -arrives at the Bake Sale of one Slappo T. Flinger, who is wearing his one-piece jumpsuit and giant shoes.

The two clowns are painted in traditional circus clown makeup, down to their giant red noses!

Gracie tries to help herself to one of the pies, but Slappo admonishes her. A tug-of-war ensues- and the pie ends up in the face of Slappo! This sets him off- he encourages Gracie to take his seat... then delivers a whopping pie sandwich to her head!

She stands and a mini tit-for-tat breaks out between the two- with them exchanging 11 pies between them! As they fight, their enormous clown shoes can be heard slapping against the floor comedically!

Gracie takes her seat again- before Slappo finishes her off with a pie barrage consisting of six pies non-stop! As she takes them, her giant clown shoes flail about in the air ridiculously and hilariously! By the end of the barrage, Gracie is an unrecognizable mass of shaving cream!

This is old-fashioned circus-clown comedy at its finest, courtesy Gracie Magna Pedibus and her friend, Slappo!
Free picture gallery:

Report