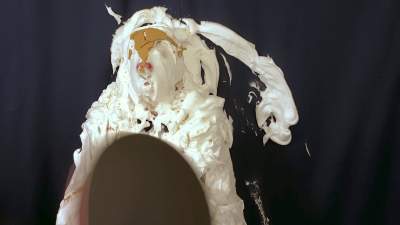 Starring these models:
"Gracie takes a 30-pie barrage!"
| | |
| --- | --- |
| File count: | 1 |
| Total size: | 1.19 GB |
| Runtime: | 8 mins, 21 secs |
| Released: | 9/13/18 |
| Produced: | 2017 |
| Rating: | |
| Reviews: | 1 |
| Views: | 1331 |
| Scene ID: | 30418 |

$7.49



Inspired by an episode of The Simpsons, Gracie Magna Pedibus, the world's greatest slapstick circus clown, is waiting for a bus!

While she waits, she indulges in some reading. Her goal? To master the lessons in The Art of Happiness so she can keep her cool during encounters with her partner, Slappo the Clown! Gracie enters the scene- and even though she is a clown, she's a hot one! Clad in a white tux shirt, black bowler hat, white gloves, red suspenders, and tight black yoga pants, she tromps into the scene, her trademark, oversized, giant clown shoes slamming onto the floor as she does. Her simplified makeup has her lovely, pale skin showing with a large red nose and red smile as the only visible signature clown makeup elements.

She takes a seat and begins to read as Slappo enters, greeting her joyfully. After discovering he can't get her attention, he proceeds to pie her in the face once- when this doesn't elicit a reaction from her, he changes tactics.

With a good shot of Gracie's face in the shot and her extra-large feet in the foreground, Slappo delivers a non-stop pie barrage to Gracie- consisting of twenty-nine pies!

Throughout it all, Gracie doesn't get angry or break her peaceful state of mind- until she discovers she missed her bus!

Slappo finishes Gracie off with a large bowl of "pie filling... "then Gracie prepares to leave by donning her hat- which is also full of pie filling! Gracie slams her hands into her legs in frustration as we fade out!

Again, this is classic circus-clown-style comedy done by two students of the art of clowning!
Reviews:
"One for the slapstick fans, great acting and funny throughout!"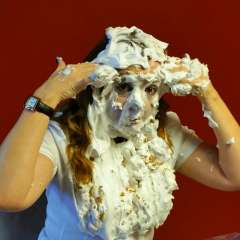 The scene is a great example of what sets Mad Lovers Cosplay aside from other producers. A lot of effort is placed in the finer details, such as the costumes, makeup and lighting, pair this together with the fine acting skills of Genevieve and you have yourself an excellent slapstick scene.
Bringing to life the scenario initially conceived in the Simpsons, this video features almost 30 pies, delivered in a variety of ways (e.g classic square on in the face, pie sandwich etc).
The quality of slapstick in the scene is brilliant, together with the superb acting skills mentioned earlier, Genevieve exhibits herself as a truly natural slapstick stoogette. Whilst the scene is primarily pie based, fans of slapstick will enjoy the addition of the bowl of foam and also the final action of Genevieve putting her hat back on, only for it to have filled with all the mess throughout the scene!
Overall I am really pleased with my purchase of this download and I encourage any lovers of pies, clowns or slapstick to do the same!
Hue and Pie,

1/6/19
edit review
Free picture gallery:

Report