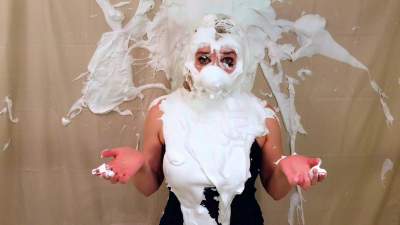 Starring the following model:
"Hot Genevieve gets pied into oblivion!"
| | |
| --- | --- |
| File count: | 1 |
| Total size: | 1.1 GB |
| Runtime: | 7 mins, 11 secs |
| Released: | 9/13/18 |
| Produced: | 2018 |
| Views: | 1050 |
| Scene ID: | 30413 |

$5.99



It's May, 2018 and the lovely and curvaceous Genevieve Renee, clad in the same form-fitting, semi-sheer, red dress with black sheen seen she wore in the original Red Nose Day, is talking about the importance of the Red Nose Day USA cause.

Genevieve explains that due to her years of experience as a slapstick and clowning performer, she expects to receive a call from nbc... asking her to appear on their televised fundraiser! Of course... that doesn't quite happen. Still, Genevieve waits patiently as time ticks away- showcasing her brilliant comedic acting skills as she does.

A few minutes into the video, she decides the reason they haven't called is because she isn't sporting a red nose! With a snap of her fingers, a clown nose appears on her face- and she cheers up... thinking that this will seal the NBC deal!

One minute later, she comes to the decision that adding clown shoes to her ensemble will help her case- she snaps her fingers and her custom-made, red clown shoes appear on her dainty feet!

Of course, that doesn't exactly help either.

A minute later, she snaps her fingers again- and her largest clown nose appears on her face! And... it works! "NBC" calls her, asking her to tell a joke, which she does. The joke is, naturally, terrible. So as a reward, "NBC" asks her to showcase her modeling skills.

Genevieve obliges- and is rewarded with an eight-pie "circus clown pie" barrage, which leaves her buried and completely unrecognizable!

To wrap up the video, Genevieve surveys the damage around her, clears her eyes and mouth and wipes down her abundant chest- to properly deliver a few final lines!
Free picture gallery:

Report