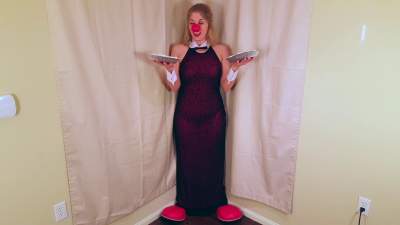 Starring the following model:
"Gorgeous Genevieve transforms into Gracie the clown and pies herself!"
| | |
| --- | --- |
| File count: | 1 |
| Total size: | 553.57 MB |
| Runtime: | 9 mins, 39 secs |
| Released: | 9/13/18 |
| Produced: | 2017 |
| Views: | 1006 |
| Scene ID: | 30411 |

$7.99



It's May, 2017, and the lovely and curvaceous Genevieve Renee is prepping for a Red Nose Day celebrity fundraiser.

Clad in her form-fitting, semi-sheer, red dress with black sheen and sporting her favorite Harley Quinn-themed earrings, she inspects her appearance in a mirror, admiring her slightly-wavy, blonde hair, red lipstick and heavy eye makeup.

Shortly, she discovers a table... on top of which rest 8 different red clown noses of different sizes and types- along with a mysterious and anonymous note reading: "Happy Red Nose Day: enjoy."

After a few moments, Genevieve's curiosity gets the better of her, and despite being nervous about being seen wearing a clown nose, she dives in and tries on the first nose- and, much to her great surprise, a tux collar with black bow tie and wrist cuffs magically appear on her body... beginning her transformation into her alter ego, Gracie the Clown!

The remainder of the video sees Genevieve try on every single nose- proceeding from smallest to largest! Midway through the process, a pair of leather, red, professional clown shoes appear on her feet as well- helping push her further into her transformed state!

Additionally, It seems the noses affect her state of mind without her even realizing it- and by the finale, Genevieve is convinced she must pie herself for the viewer's enjoyment!

She totters off screen... only to reappear with pies in each hand! If you're a fan of female clowns, you haven't lived until you've watched Genevieve waddle around in her favorite clown shoes!

The camera is now positioned so we can see a full-body view of the curvy clown- and the lighting allows the viewer to actually partially see-through her sheer dress.

She delivers an epic pie sandwich before finishing herself off with a pie in the face!

If you love stunningly-beautiful women who are funny and care-free enough to make a fool of themselves (with clown noses, dumb shoes, and pies!) for your entertainment pleasure... then you need this video!
Free picture gallery:

Report
Similar scenes
7 min

4 min

4 min

9 min

13 min

2 files

10 min

2 files

14 min

4 files

14 min

3 files

6 min

23 min

4 files

10 min